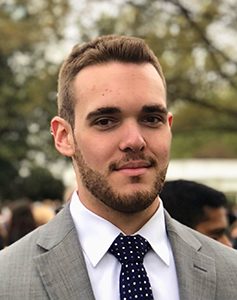 Connor Vargo joined TCU in September 2023 as a Legislative Representative. Connor reports to National Legislative Director Dave Arouca and the Office of TCU National President Artie Maratea.
Connor's duties include advocating for TCU members directly on Capitol Hill and throughout the federal government. His deep experience in policy development and the legislative process are a valuable asset to our union's efforts to preserve and protect the jobs, health, safety, and retirement of TCU members.
Prior to joining TCU, Connor served on Capitol Hill for five years, advising several Members of Congress on broad policy portfolios, including labor policy. Connor worked closely with many labor unions on their national and local priorities, such as fighting for expanding collective bargaining rights and supporting fair wages for workers. Before his time on Capitol Hill, Connor worked with local governments and partners in New Haven and West Haven, Connecticut building community relations.
Connor grew up in a union family in Woodbury, Connecticut and received his bachelor's from the University of New Haven in political science. Connor remains involved with the University of New Haven community by volunteering and assisting their Model United Nations, Mayor's Advisory Commission and political science programs.