As the month of March comes to a close TCU/IAM celebrates hardworking members for Women's History Month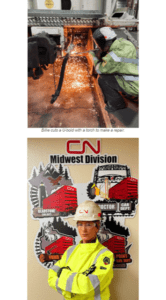 Billie Miller, from Stevens Point, WI is the first woman in the U.S. on Canadian National Railroad to complete her Carman's Apprenticeship Training. Billie is also the Local Protective Committee-person for Local Lodge 6013 for the Stevens Point location. Carmen General President Grissom states, "She is a valuable asset to our Union.
Breaking Barriers – From CN Midwest Division Magazine
Billie Miller continues to break barriers. The pioneering conductor from Stevens Point. W, is one of the first women in the U.S. to complete the entire Carman Apprenticeship requirements earning her mechanical Carman Journeyman card.
"The certification requires you to complete 732, 8-hour work days in the Car shop doing heavy equipment repair as well as FRA-mandated inspections in the field, explains Billie.
Billie started her career in Transportation in 2013, becoming the first woman to complete the seven-week New Hire Conductor Certification program in the U.S. "I joined the railroad because I wanted to do something new, exciting and unconventional," says Billie, who took courses in the field of nursing before switching careers to railroading.
Over the years, she attended the Transportation Management Training Program in Homewood for Manager of Operations, and became a yard card certified locomotive engineer. "I've always thought it important to expand my skill set and know other aspects of the railroad so in 2018 I went across the hall to Mechanical, she says. "People discouraged me because there were few women in the department at the time but the challenge just propelled me forward."
Once on a new team, Billie rolled up her sleeves and began to learn the craft. A strong focus on safety was the main constant. You have to think about safety before you even put on your boots," she says. "It has to be at the forefront of your mind every day if you are to keep out of harm's way." Now a certified Journeyman, Billie is happy she made the decision to cross crafts. "Other than the cold climate in Wisconsin this is a great job!" she laughs. "I've met so many inspiring people at CN since I started. For anyone considering a change, I say don't listen to the naysayers. Keep moving forward and expand your horizons. Nothing is impossible."
---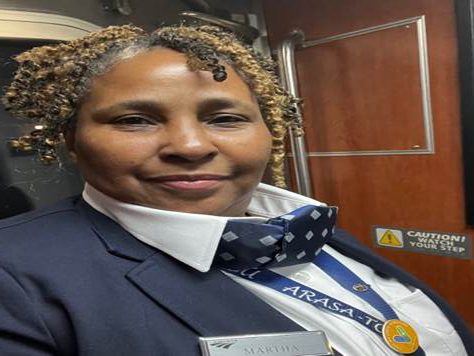 Martha Henderson, Vice President of Local 5093, began her Amtrak career as a reservation sale agent in
Los Angeles, in January 1990. Sister Henderson has worked in several diverse positions as a unionized employee.
Sister Henderson was the Western Division Operation Red Block Coordinator for 5 years. In this role she provided training
and education throughout the Amtrak system, promoting a drug and alcohol-free work environment. During her tenure as the
coordinator, she encountered countless challenging moments coordinating with the union and management in aiding employees who needed help.
In September 2019, she was promoted to an ARASA On Board Service Supervisor at the Los Angeles crew base. Henderson describes that promotion as a wonderful experience that has allowed her to grow professionally and has enjoyed collaborating with colleagues who strive to bring the best to the Amtrak family.
In September of 2022, the membership elected her to serve as Vice President for ARASA Local 5093.
Henderson explained her experience; "As a woman, I have accepted these new positions regardless of the trials that come with it. The challenges have broadened my skill set and have allowed me to flourish. Although I have been a union member for thirty-three years, I have come to understand the greater purpose of the union as an officer. I recognize and embrace the responsibility to stand and unite for Labor and the Labor Movement."
Henderson said it is a privilege and honor to work alongside two other women, Unit 500 Division Chairperson Melody Wooten and L5093 President, Charlene Bussey.
"Melody is fearless and exemplifies integrity and accountability. Charlene is humble, kind, smart, and strong. Both women have taken me under their wing, and we work
together not only for our members but to lift each other up as women."
As a woman of faith, as an ordained minister, and from her union affiliation, Henderson says she strives to be fair and to bring commonality to the table so that we can all excel together.
National President Artie Maratea said, "Sister Henderson's story is a perfect representation of a TCU/IAM Local Officer – a caring leader who is not afraid to take on tough challenges
for the sake of the membership. I am thrilled to celebrate her."