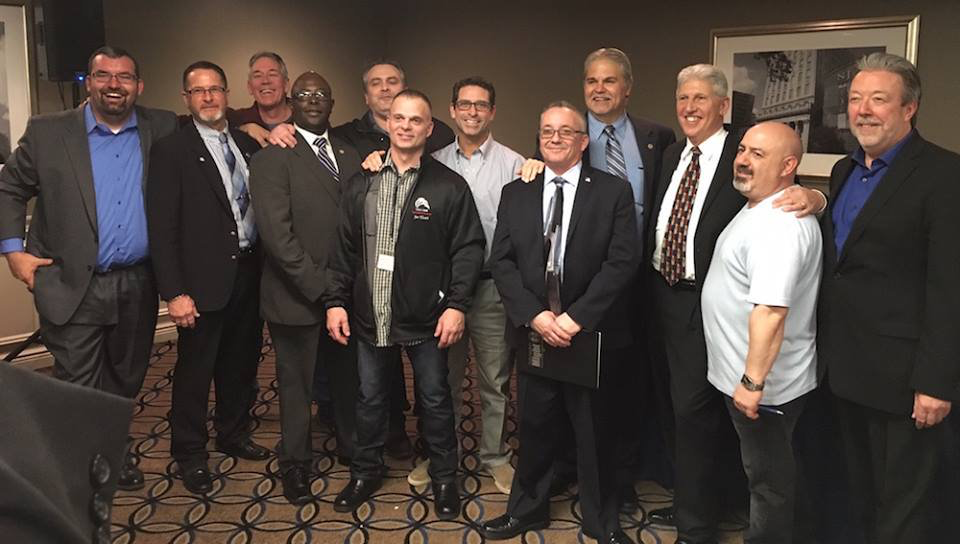 TCU, IAM Delegation at the NJT Negotiations
Front row left to right: Jason Tiller, Mike Miller, Anthony Stevens, Joe Vicari, Mark Perez, Artie Maratea
Back row left to right:Glenn McCrostie, Jason McMahon, Billy DeCarlo, Don Grissom, Joel Parker, John Lacey
Washington, D.C., March 11, 2016 –Transportation Communications Union (TCU) as part of a coalition of 13 unions representing more than 4,000 workers at New Jersey Transit have reached a tentative contract agreement. The deal avoids a strike that would have shut down the nation's third-largest commuter railroad at 12:01 a.m. on Sunday, March 13th.
A strike would have been the first work stoppage at New Jersey Transit in 33 years. Numerous New Jersey politicians, including U.S. Sen. Bob Menendez (D-NJ), called on New Jersey Transit to come to terms with its labor force before an impending strike.
"All TCU members and the entire New Jersey Transit Rail Labor Coalition deserve commendation for their solidarity through this painstakingly long process," said TCU National President Bob Scardeletti. "Today's tentative agreement is only because of their unity and solidarity, and now subject to an up or down vote."