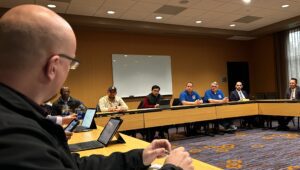 On February 22, 2023, Carmen Assistant General President, Carl Lakin, and National Representative, Jason Cox, met with FRA Administrator Bose in East Palestine, OH. 
 
There were several concerns addressed by the First Responders concerning the lack of information involving hazmat contents until they arrived at the scene of the accident. There also appeared to be confusion around who was responsible for outlining the quarantine area.
 
The meeting then turned to the wayside detector maintenance. The bearing in the incident was shown above ambient temperature at the first detector.  At the second detector it trended hotter.  The detector will only trigger an audible alarm and train crew alert only when the bearing has already reached/surpassed the critical threshold.  National Representative, Cox, commented, "The wayside detector is the perfect Carman for the railroads; it has an off switch". 
 
The main concerns addressed were decreased manpower, forced overtime, lack of rest and retaliation.  Retaliation for reporting maintenance concerns was also highly discussed with participation from all crafts.  As Carmen General President, Grissom, stated, "This is the only industry that trains their employees to do a job and when they do their job, they get fired".  Every rail craft in attendance commented on the industry harassment of its workers.  
 
Carmen Assistant General President, Lakin, outlined the continued need for visual inspections.  It was also brought up about the one minute per car inspection standard under PSR for over 200 inspection points per car.  A Carman can barely walk around a car in one minute, let alone inspect one.  Brother Lakin also commented on the reduced workforce on Norfolk and Southern by 40 percent with mandatory overtime to supplement the losses.  Later the Trainmen would comment that  "The Carman holds the Doctorates degree for rail car inspection. My members simply hold an associate's ".  As former General President, Johnson, stated before, "It's only a matter of time before fatigued workers, unrealistic inspection policies and unqualified mechanical inspection will lead to a serious incident in someone's neighborhood."
 
Finally, Administrator Bose commented the following statements, "Expediency, must not be allowed to compromise the safety of the American People.  New technology should augment workers, not supplement them".