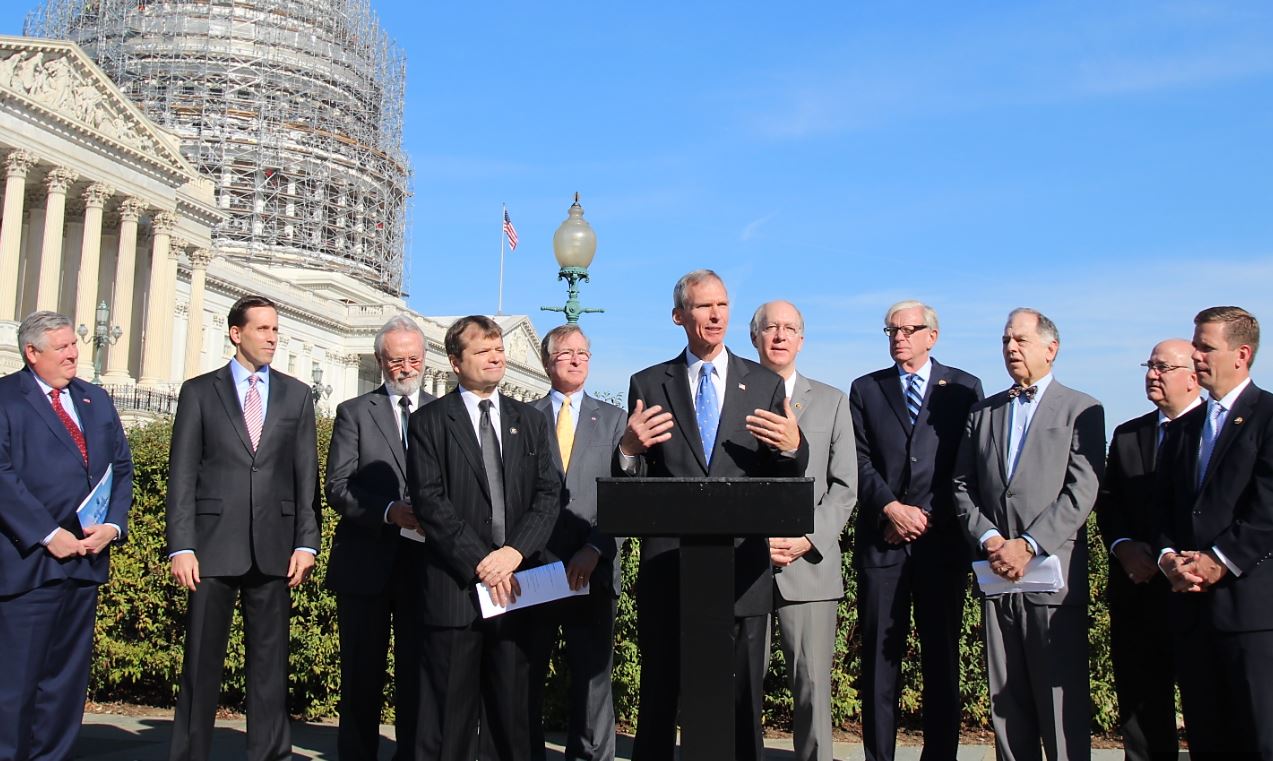 Rep. Dan Lipinski (D-IL) Calls For PTC Extension
TCU was in attendance as a bipartisan group of lawmakers held a press conference to call for an immediate extension of the Positive Train Control (PTC) deadline, slated to go into effect at the end of the year.
Leading the event was Congressman Mike Quigley (D-IL) and fellow-Chicagoan Dan Lipinski (D-IL), as well as Dan Newhouse (R-WA) and many others. They were joined by representatives of just a small sampling of the various industries that would be affected by the supposed PTC-imposed shutdown of the railroads including Ed Hamburger, President of the Association of American Railroads; Don Orseno, CEO of Metra; and Chris Jahn, President of the Fertilizer Institute.
Rep. Quigley led by driving home that "if the railroads are not moving, the nation's not moving." His sentiment was echoed by Rep. Newhouse who spoke about the potential impact on farmers and the agricultural industry that relies on freight networks to quickly move products and produce before they spoil.
A long-time champion of TCU members and railroads, Rep. Lipinski said that he is confident that the language in the recently introduced extension by the House and Senate will hold railroads accountable and ensure that PTC is installed in a timely manner. He also stated that he hopes a need for a Surface Transit bill extension in the coming days would provide a vehicle for an extension of PTC.
In recent weeks, many railroads have been stepping up pressure for Congress to get an extension passed. Some studies have even calculated the impact of railroads shutting down to be even worse than that of the 2013 government shutdown. Ed Hamburger conveyed the efforts of the industry to see PTC fully installed and implemented but reiterated the inability of railroads to get it done by the end of the year. Metra CEO Don Orseno noted that when Congress passed the law mandating PTC in 2008, the technology didn't exist and needed to be invented.
Earlier this month Congressmen Quigley and Newhouse were joined by 160 bipartisan House members in sending a letter to House leadership that called for an immediate extension of PTC: "…we believe this matter requires immediate attention. Due to complex logistics, Americans could begin to see the effects of the disruption weeks prior to the deadline with railroads, shippers, and agricultural suppliers stopping operations and closing facilities early."