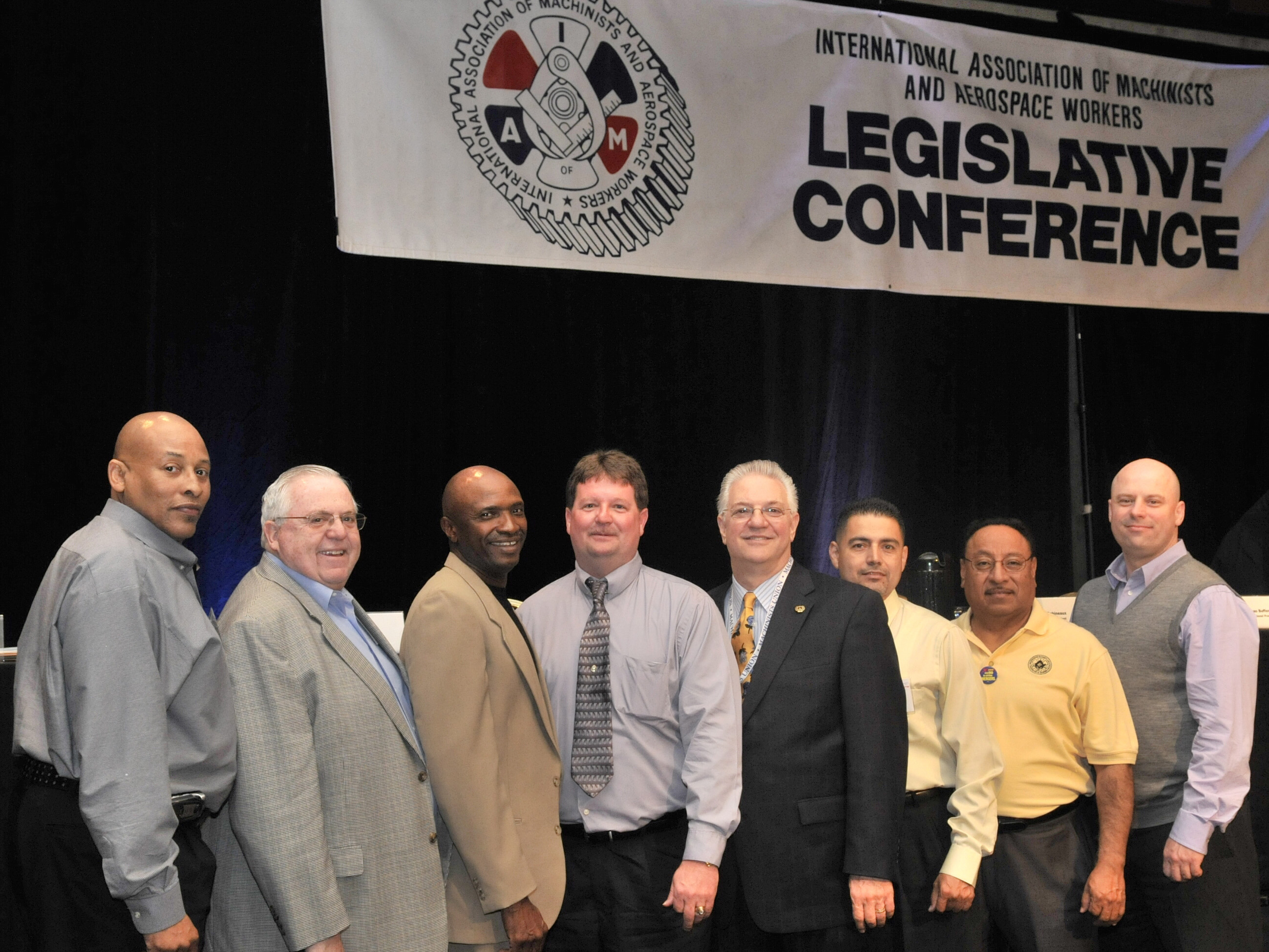 TCU's delegation: from left, Alfred Coleman, IVP/NLD Bob Davis, Mark Taylor, Mitch Canter, IP Bob Scardelletti, Sal Rodriguez, Asst. LD Tony Padilla and Charles Jackson
May 23, 2008— Hundreds of activists from the IAM—among them a delegation from TCU—met in Washington, D.C. from May 19-22 for the IAM 2008 Legislative Conference featuring four days of planning and lobbying on behalf of fellow members whose livelihoods are frequently tied to decisions made here.
TCU representatives were led by International President Bob Scardelletti.  In the group were International Vice President and National Legislative Director Bob Davis, Assistant National Legislative Director Tony Padilla, Local Chairmen Alfred Coleman, Local 6364; Mitch Canter, Local 2512; Charles Jackson, Local 718; Sal Rodriguez, Local 2511; and Mark Taylor, Local 570. 
The conference is held each year in the nation's capital to give members of the union the opportunity to hear from legislators and others about those issues of major concern to the members. 
"Even the casket you're buried in is regulated by politicians," said IAM International President Tom Buffenbarger in a keynote address that stressed the importance of face-to-face meetings with lawmakers. "The most important thing we can do is put them on notice and let them know you're not just from the union, that you're also a vote from back home."
On Tuesday, May 20, the IAM sponsored the 21st annual "Good Scout" Government, Labor and Management Awards reception at which TCU's International President Bob Scardelletti was among the honorees.  Others recognized were U.S. Representative Steven C. LaTourette, Senator Jon Tester, BNSF CEO Mathew K. Rose, and CSX CEO Michael J. Ward.  In the photo, while IAM President and Chairman of the event Tom Buffenbarger observes on the left, Scardelletti proudly wears the Boy Scout bandana presented to him and holds the statuette given him.  The scouts in the photo are from Troop 380, St. Peter's Catholic Church, Washington, DC.
During the morning sessions the audience heard from several members of the U. S. House of Representatives and the U. S. Senate, among them Speaker of the House Nancy Pelosi, Senators Patty Murray and Jon Tester, Congressmen Neil Abercrombie, Bennie Thompson, Congresswomen Sheila Jackson Lee, Maxine Waters and many others.  They spoke on issues ranging from trade agreements to Amtrak to the Employee Free Choice Act and much more.
The afternoons were spent visiting Capitol Hill to do some face-to-face lobbying with members of Congress.  TCU representatives attended hearings of the House Transportation and Infrastructure Committee concerning the reauthorization of Amtrak.
"It was a very good, motivating conference," says IVP/NLD Davis. "The TCU Local Chairmen who attended returned to their homes with renewed knowledge of how important legislation and politics are to our union."