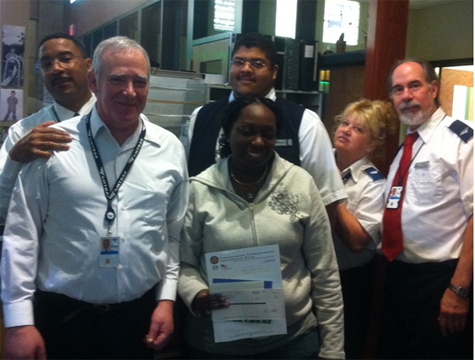 On Wednesday, April 20, 2011, Local Lodge 861 members at Albany, NY, were pleased to present a check from TCU's Disaster Relief Fund to sister Shantell Berry on behalf of TCU.
Sister Berry, a mother of four young children, and Local 861 Financial Secretary Treasurer, recently lost all of their household effects to a devastating fire.
Pictured above from TCU Local 861 are: Jose Rosa, David Schecter, Shantell Berry, Marcus McCumber, Virginia Hunter and Carl Kenneth Jensen.
The call for a member in need is still going out; particularly with used or new clothing for Shantell and her children.
Please contact Local 891 Local Chairman Brian Sawyer at sebs25@yahoo.com if you can help, monetary donations can be sent to:
Brian Sawyer
Chairman Local 861
22089 NY RT 22
Hoosick Falls, NY 12090
(518) 698-2268
Make checks payable to Shantell Berry.
Brother Sawyer can arrange for any item that would require shipping.