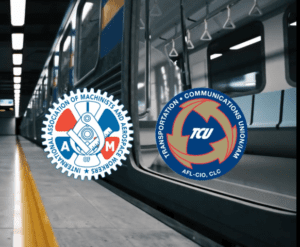 On July 6th, 2005 TCU and IAM signed a historic merger agreement. The agreement brought together two of the strongest rail labor unions and created the steps that brought about the current IAM Rail Division.
TCU joining the ranks of the IAM made both unions stronger and wove together the hopes and needs of a diverse membership for the best interests of all. The merger created a  shared unity of purpose and vision to protect the interests of all members and to empower not just TCU and IAM members but all working people.
"The merger with the IAM has been a great success. With both unions becoming one we are stronger at the bargaining table and on the hill. The Rail division is the pinnacle of that success. TCU looks forward to the continued strength of the merger," said TCU President Artie Maratea.
"The IAM, which was founded as a railroad union in 1888, will never forget its roots. Together with TCU/IAM and IAM District 19, the IAM Rail Division is a strong, united voice for railroad workers across the industry. On today's anniversary of our merger and always, we pledge to fight for the working men and women who make our nation move each and every day." – IAM International President Robert Martinez Jr.
"It's an honor to lead the IAM Rail Division, a sector of our union with so much history and pride in the work our members do," said Josh Hartford, IAM Special Assistant to the International President for the IAM Rail Division. "The merger of TCU/IAM into our union has made us a force to be reckoned with in the railroad industry, and we look forward to growing in both strength and numbers for many years to come."