The TCU Convention kicked off on July 19th and ended on July 21st. With the Carmen Division Convention happening on July 18th.
The 36th Regular TCU/IAM Convention began with pomp and solidarity as Lodge 1351 member, Brooke Jameson sang the national anthem. The theme of "Members Strong" took shape all around the Convention hall as pictures and videos of TCU members working on-the-job were evident everywhere. TCU also saluted the members serving in the military and all the TCU officers that passed away since the last Convention.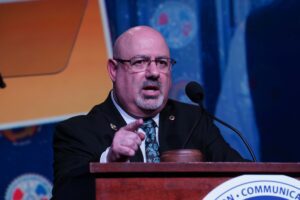 TCU President Artie Maratea delivered a strong and passionate Keynote address to the delegates at the Convention. He inspired the room, touching on topics from how TCU Members worked tirelessly throughout the COVID-19 pandemic to the current status of the National Freight Negotiations.
The Convention viewed a video showing the struggles and successes of TCU during the pandemic. The end of the video was a memorial and listed the names of the 53 TCU members that lost their lives to COVID.
President Maratea said, "Our members were nothing short of heroic, they are heroes…our members kept the country going. It was our members that carried freight, intermodal, passenger rail, the commuters, rail supporting industries and Disney through the Pandemic."
President Maratea applauded all TCU reps, "I am very proud of our representatives, at all levels, you showed up for our members and helped them navigate through the worst of times."
On the National Bargaining front he said, "Our members worked through a pandemic, without pay raises. There is no way in hell we will accept any cuts to our members' healthcare…and we will push for real wage increases for the future of our members."
TCU National Officer Elections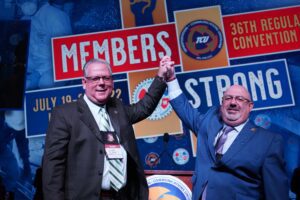 With the announced retirement of Jack Dinsdale and Rich Johnson, a bold new beginning was taking shape on the Convention floor. Every National officer was elected unopposed. TCU President Maratea was nominated by Vice-President Matt Hollis in a stirring and motivational speech. Matt said, "As Artie moved up through the ranks his leadership ability was respected at every level. His co-workers on the shop floor, by his peers on the Executive Council, and now by all the leaders of rail labor in this country. I am sure the delegates here recognize it as well."
"Artie is not afraid to make the tough decisions," Matt continued. "to ensure that every TCU representative has what they need to give our members the best representation possible."
After being elected TCU National President Artie Maratea said, "Thank you very much! I am honored and humbled and proud to serve you. I will not let you down!" President Maratea said. "I want to thank my family, my wife and children. I have missed important days to conduct the business of this union but they have never wavered in their support.
The Incoming TCU National Officers are: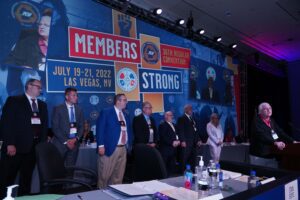 Artie Maratea – National President
Stan Boyd – National Secretary-Treasurer
Matt Hollis – National Vice President and Special Assistant to the President
TCU National Vice Presidents:
Billy DeCarlo, Don Grissom, Mary Gunn, Greg Kocialski and Brian Shanahan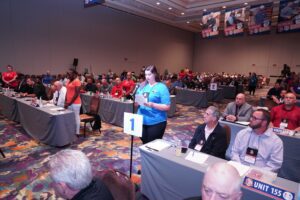 One highlight that stood out was resolution 19 to the TCU Constitution. Amanda Chapin Local Chairwoman/Delegate of Lodge 1089 read the full Resolution 19 creating a formal committee of women TCU Representatives, and resolving that TCU shall include gender inclusive language in all section 6 notices going forward.
Carmen Division Convention
The TCU Carmen Division held their 36th Regular Convention which begins a new chapter of Carmen Division Officers and Executive Board members. General President Rich Johnson announced his plan to retire at the end of his term effective August 31, 2022. Assistant General President Don Grissom was elected as the new General President effective September 1, 2022.
In a show of solidarity and strength President Johnson nominated the Division Officers and the entire Executive Board, which were all elected unopposed.
The incoming Carmen Division Officers are: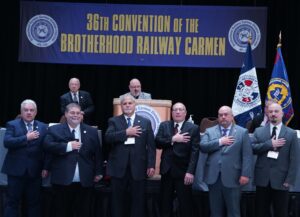 Don Grissom – Carmen General President
Carl Lakin – Carmen Assistant General President
Darren Treiber – Carmen Vice President
Ricky Reilly was elected as the Carmen Executive Board Chairman.
Greg Burnett and Jason Cox were elected as members of the Executive Board.
TCU President Artie Maratea performed the installation ceremony for the Carman Officers. He said, "I am proud to be part of the Carman Convention and I know the newly elected Carmen Division Officers will do what needs to be done to make this union stronger." He continued, " I have leaned on Rich, his experience and leadership have been extremely helpful, I wish him all the best."
President Johnson said "All of these officers are the ones to lead this division into the future, I have worked with each of them and I would not be retiring if I did not know that each and every one of them are ready to lead us and do the work that needs to be done."
Newly elected Carmen Division President Don Grissom said, "I am so proud to be able to lead this Carmen Division. I want to thank Rich for his leadership and I know the experience I learned from him will help me represent this union the best way possible."
In closing the Convention, President Johnson said, "I would be remiss if I did not acknowledge an important segment of our union, that is the families of our officers and delegates, our wives and children. They are the ones that have to put up with us through all the time that we are not with them but are devoting our time to representing our membership."
Concluding President Maratea said, "The theme of our Convention, Members Strong, is not just a celebration of the strength our members have shown through the past few years, it is also the mission we will take into the future."
Click here to see more pictures from the TCU Convention.