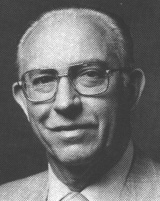 James Lawton Bailey of Panama City Beach, Florida, a retired general vice president of the Brotherhood Railway Carmen, died August 2, 2007 at the age of 85.
Known as "Sport," Brother Bailey started his rail career with the L&N Railroad in November 1942 and joined Lodge 938.  He was elected local chairman in 1947 and served in that post until voted general chairman in 1959.  After 17 years as GC, he served as grand lodge deputy from 1976 until 1978 when he was elected a general vice president.  He served in that position until retiring September 1, 1987.
Among other memberships, he was a master Mason and belonged to the Scottish Rite and the Eastern Star.  He attended St. Andrews Baptist Church.
His wife, Betty, predeceased him in 2001.  Among survivors are his daughter, Scarlotte Holmes, and son-in-law, John, of Panama City Beach, three grandchildren, nine great-grandchildren and four great-great grandchildren.