September 10, 2007—Charles E. Wheeler, retired general president of the Brotherhood Railway Carmen who engineered the merger of that union with what was then the Brotherhood of Railway and Airline Clerks, passed away September 10, 2007.  Residing in Jackson, Tennessee, he was 82 years old. 
Known as Ed, Brother Wheeler was born and raised in Lexington, Tennessee.  He launched his rail career as a carman apprentice in 1942 with the Gulf, Mobile and Ohio.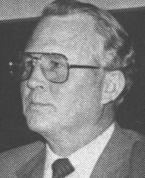 After serving in the Navy during World War II, he returned to the railroad and was elected a BRC local chairman in 1952.  He went on to be elected a GM&O vice general chairman and then, in 1956, general chairman.  He was appointed to a Grand Lodge post in 1972, then named a vice president in 1976, serving as the BRC's representative on the National Railroad Adjustment Board and on various Public Law Boards.  He was elected president of the BRC at the union's 1983 convention. 
Following the August 1986 merger, Wheeler continued to serve as General President of the Carmen Division and as an International Vice President of BRAC, later renamed TCU.  Of the merger, he told members at the time that  "We will be stronger as one union and thus able to deal more effectively with management in protecting the interests of our members."  He retired in 1989.
Among survivors are his wife of 62 years, Edith, of Jackson and two sons, Danny and Charles Jr., a daughter, Lisa Ann Clark, seven grandchildren and five great grandchildren.
Memorials may be sent in his name to the American Cancer Society's Relay for Life.