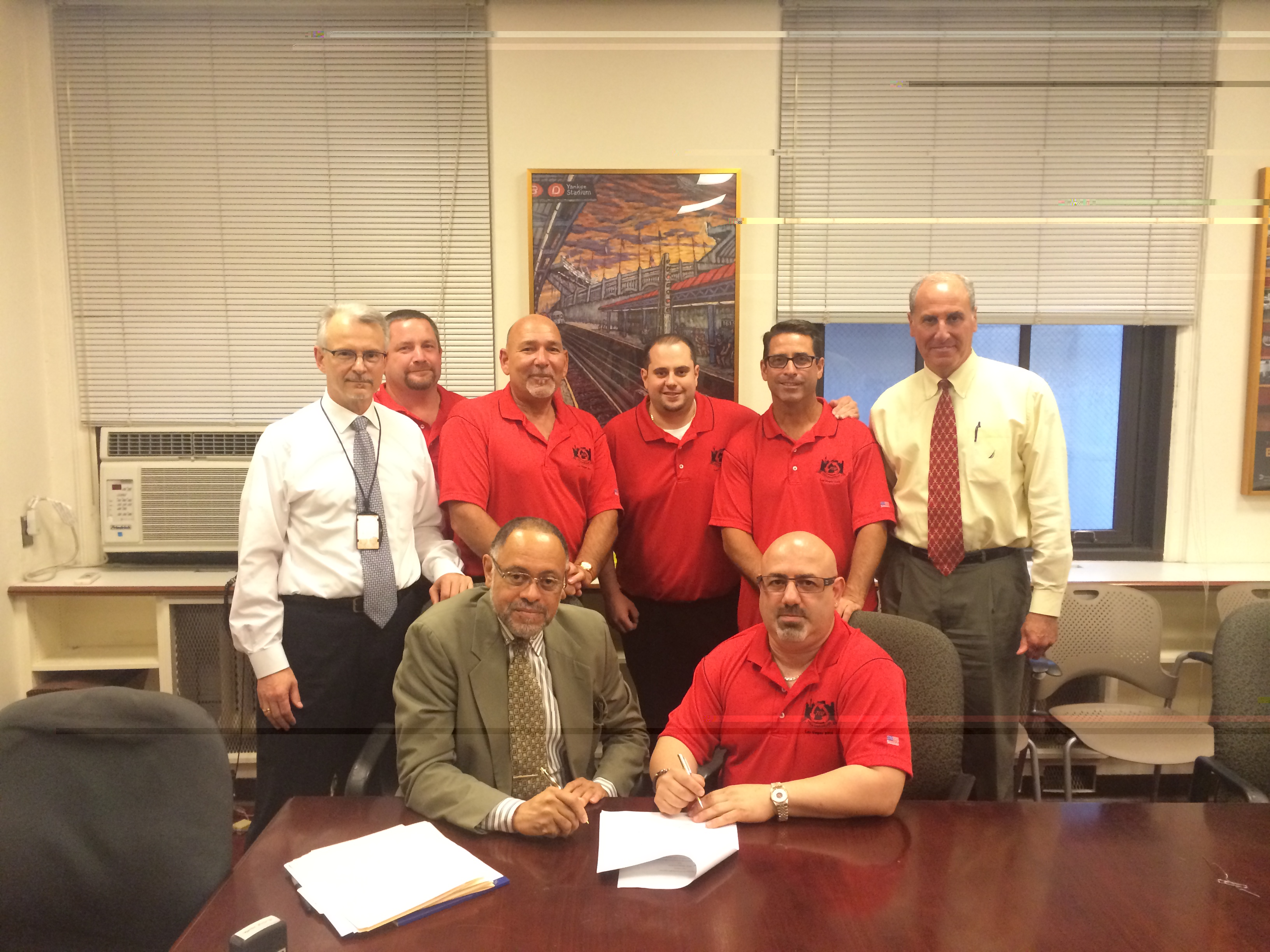 Seated left to right: Charles Glasgow, Deputy Director, Labor Relations MTA; Arthur Maratea, National Vice President, TCU-IAM. Standing left to right: Ralph Agritelley,Vice President Labor Relations, Metro-North; Michael Hale, FST ARASA TCU-IAM Lodge 5091; William Mills, General Chairman ARASA TCU-IAM Lodge 5041; Paul Constantinople, Local Chairman TCU-IAM Lodge 227; William DeCarlo, National Representative TCU-IAM Unit 167; Andrew Paul, Assistant Director Labor Relations, Metro-North.
Fresh on the heels of reaching a breakthrough contract on Long Island Rail Road, TCU negotiators on August 18 negotiated identical agreements for Clerical and ARASA (MofE) members on Metro-North Railroad.
The agreements provide for more than 18% in compounded wage increases over a six and a half year term. The wage increases are retroactive all the way back to January 16, 2011, including overtime. The substantial back pay amounts will not be reduced by retroactive employee contributions to health care, a major improvement over the recommendations of two Presidential Emergency Boards on Long Island.
The agreements have none of the work rule concessions that Metro North management demanded over four years of deadlocked negotiations. Going forward there will be employee health insurance contributions equal to 2% of 40 hours straight time pay, again less then what was recommended by two PEBs. Current employees will continue to see their 3% pension contribution end after ten years. The agreements contain the first ever me-too provisions on Metro-North.
The agreements were negotiated by National Vice President Arthur Maratea, National Representative William DeCarlo, and ARASA General Chairman William Mills, assisted by ARASA Financial Secretary-Treasurer Michael Hale, and Clerical Local Chairmen Paul Constantinople and Rod Fasion.
The ratification period ends September 5, 2014.
"From day one the fates of Metro North and Long Island workers were joined. For over four years MTA pursued identical negotiating strategies on both railroads, demanding net zero wage increases and drastic concessions on pensions, health insurance and work rules" says Vice President Maratea. "Just two days before going on strike on Long Island, we broke through with this excellent deal. The ink wasn't dry before we extended it to Metro-North."
ARASA General Chairman Bill Mills commented, "This outstanding agreement is a testament to our collective strength in TCU. For four years negotiations were going nowhere on Metro-North. Then, the moment TCU succeeded on Long Island, we were able to achieve the same excellent terms for our Metro-North members."
National Representative Billy DeCarlo added, "The back pay alone makes this contract outstanding. The fact that we had to overcome three vastly inferior wage and benefit patterns makes it truly remarkable."
TCU President Robert Scardelletti said, "I commend our negotiators for their ability to deliver this excellent agreement to our Metro-North members so quickly after our historic contract struggle on Long Island."
One TCU craft on Metro-North — ARASA (M of W) — has yet to reach an agreement because of a unique pay disparity issue. President Scardelletti said, "I am hopeful that our M of W Supervisor representatives can negotiate a resolution of the pay disparity issue expeditiously, so that our members will not have to wait long to reap the benefits of this outstanding contract."
Click here to see the ARASA (M of E) tentative agreement.
Click here to see the ARASA (M of E) ratification letter.
Click here to see the Clerical tentative agreement.
Click here to see the Clerical ratification letter.