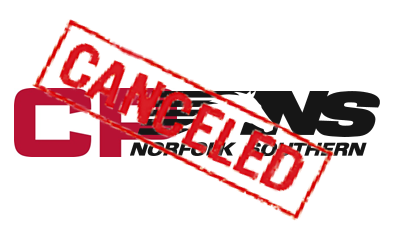 Following growing opposition from Capitol Hill and the U.S. Department of Justice's Antitrust Division, Canadian Pacific Railway (CP) announced today that they are ceasing efforts to merge with Norfolk Southern (NS), citing "no clear path to a friendly merger at this time."
This is a major win for workers on both carriers, as well as the rail industry overall, all of whom would have suffered greatly from a merger.
As mentioned in previous posts, the consolidation of the two railroads would most likely trigger downstream mergers amongst other carriers. With competition already severely limited at only seven Class 1 carriers, any further consolidation would not legitimately increase value for consumers as the increased power of a fewer players begin to dictate the market.
Furthermore, the negative impact on jobs throughout the country would be devastating. Some experts estimated that the CP-NS merger could have cost up to a third of the entire NS workforce as "synergies" are made. But, again, the job cuts would most likely not have stopped there.
Railway Age Editor-in-Chief William Vantuano described in December: "Assuming the merger goes through, the remaining Class 1's will have little choice but to combine…Union Pacific will join with CSX, and CN will merge with BNSF…" [He later suggests Kansas City Southern being acquired by CN as well].
These mergers would undoubtably include major job cuts across the industry. With the jobs and lives of members in mind, TCU moved quickly to oppose the merger shortly after plans were announced.
TCU National President Bob Scardelletti joined and directed efforts to oppose the deal, working with partners in rail labor to push both Members of Congress and the Surface Transportation Board (STB) to reject the merger. "Today is a good day for railroad workers, shippers, freight carriers, and the general public," said Scardelletti. "In fact, the only people this is bad for are CP's leadership and their Wall Street investors trying to profit on decreased competition and a labor-gutting business model."
---
UPDATE:
House T&I Chairman Bill Shuster (R-PA) issued a statement regarding CP's cancelled plan to merge with NS:
"I believe this proposal was bad for America, and our Nation's military also raised concerns about the negative implications it could have for national defense. This merger was not in the best interests of the country, the U.S. freight transportation system, railroad employees, rail shippers, and short line railroads, and I am glad that Canadian Pacific heard that message and decided to move on. The railroads should now focus on improving the movement of goods to continue our economic growth."