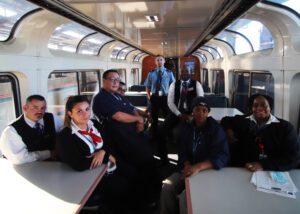 The proposed funding levels from House Republican lawmakers would be completely devastating to railroad workers, rail safety, and railroad retirees. The bills propose to gut Amtrak and transit agencies, as well as the Railroad Retirement Board (RRB), among others.
 
"These proposed funding levels are a slap in the face to railroaders – there's no other way to put it," said TCU National President Artie Maratea. "Our members and the American people expect our government to be responsive to their needs. But if these funding levels are enacted, it's hard to imagine government functioning at all. The bills leave little unscathed – rail safety, Amtrak, transit/commuter, the Railroad Retirement Board (RRB), and the NLRB all are deeply gutted by this proposal."
 
The House Republican funding proposals cut far deeper than the recently-enacted bipartisan budget agreement that was negotiated between President Biden and House Speaker McCarthy. That agreement was the product of intense talks that saw our country nearly default on its debt. Unfortunately, House Republicans have chosen to abandon their own agreement and propose far deeper cuts instead.
 
"It's hard to imagine a worse funding scenario if you're an Amtrak worker," said Greg Kocialski, TCU National Vice President in charge of Amtrak. "Cuts of this magnitude would put thousands of Amtrak workers on the unemployment lines – where their unemployment checks would also be sadly cut because Congress won't pass the bipartisan REEF Act. So, instead of building NexGen passenger rail, this budget proposal puts people on the street."
Low-lights of the House Republican Proposed Budget bills:
Amtrak – $876 million – a 64% cut. By Amtrak's estimates, 10,000 employees would be furloughed if these funding levels were to take effect – including many thousands of TCU members. Service would extremely restricted on both the Northeast Corridor and the National Network (Long-distance and State-Supported).

The record funding provided to Amtrak in the Bipartisan Infrastructure Law was expressly provided to Amtrak to purchase new rolling stock, perform a massive backlog of maintenance work, and help spur the development of new routes. None of the Infrastructure law's funds can be used for annual operating expenses, which includes the continuation of existing services. This proposed figure would largely dismantle the Amtrak network and result in mass furloughs for Amtrak's TCU members.
Railroad Retirement Board (RRB) $103 million – a 30% cut. The proposed funding level for the RRB would force the agency to make drastic cuts to their headcounts, which include Customer Service personnel, field office staff, and claims agents. According to the RRB's initial estimates, the RRB would only be able to answer the 32-38% of calls received. Field service personnel would be eliminated/severely reduced, compromising all types of claims requiring in-person processing. If this budget were to become law, railroaders, retirees and their spouses can expect months-long wait times on any issues with the agency – be it retirement, unemployment/sickness, or disability claims.
Transit – $18.9 billion – an 11% cut. Just as transit and commuter rail systems are seeing the return of ridership, this budget proposal threatens to stop that progress in its tracks and once again threaten the service of everyday commuters – and the jobs of thousands of transit and commuter employees. Now is not the time to short-change our nation's transit systems, reduce service, and furlough our pandemic-era heroes.
"Priorities matter. The Railway Safety Act is nearing passage in the Senate. But instead of focusing on rail safety in the House, these bills propose drastic cuts on the backs of working railroaders and retirees. As the Carmen General President, I care about my members and rail safety – these bills hurt my members while ignoring rail safety," said Don Grissom, TCU Carmen Division General President.