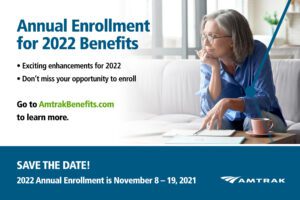 Open enrollment for Amtrak benefits will be from November 8 – November 19, 2021.  This is the time to make changes to your status such as adding a spouse, child, step child etc.  Linked below is a copy of the post card that will be sent to retirees and a copy of a post card that will be sent to active employees with directions on how to handle their open enrollment issues.  As a matter of information it is possible to add new dependents or a spouse to the plan outside of open enrollment if it is done within 30 days of the event.  However the open enrollment period starting on November 8 gives everyone a chance to fix any issues.
Click here to view the postcard.
Click here for the retiree postcard.