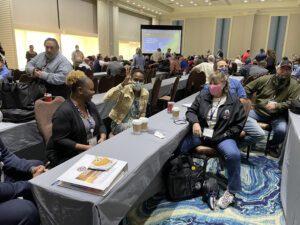 Last week TCU Local Chairpersons from across the country participated in an Advanced Leadership Seminar. The training included classes on Disciplinary Hearings, the role of the Delegate, an Arbitration workshop and a Mock Union Meeting. Workshops were held by the Legislative, Constitution & Law, Industry Relations, Communications, Legal and Organizing departments.
The Local Chairmen that attended the class were eager to learn and many gave very positive feedback.
"Training of our local reps is is one of the primary goals I have as President of TCU," said TCU President Artie Maratea. "I am so proud of the Local Chairpersons that took the time to attend this training. They worked so hard and I hope everyone came away with tools and ideas that will help them represent our membership."
"I would also thank the full time reps and TCU staff that put this training together and really made the training informative and enjoyable."
TCU Local Chairs joined by Congressmen via Video
 
At last week's Advanced Training in Las Vegas, TCU Local Chairs were joined by three special guests via pre-recorded video. Chairman of the House Railroads Subcommittee Donald Payne (D-NJ), Rep. Brian Fitzpatrick (R-PA), and Rep. Tim Ryan (D-OH & candidate for U.S. Senate) all sent videos congratulating and thanking TCU Local Chairs for taking the time to develop their skills as union representatives.
 
These elected officials have been particularly strong defenders of TCU members and their jobs, and we're proud to call them allies in our fight to promote and protect good railroad jobs.
 
On behalf of all TCU members, we thank them for taking the time to send their video well wishes.
Click here to view pictures of the training on the TCU Instagram feed.