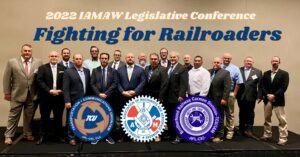 At this week's 2022 IAM Legislative Conference in Washington, DC, union leaders from TCU, the Carmen Division, and IAM District Lodge 19 amplified our members' voices by meeting with various elected officials from across the federal government. Our railroaders spoke at length with leaders from the Federal Railroad Administration, the Surface Transportation Board, and Congress.
Conference attendees heard speeches in the mornings from some of the most powerful leaders in Washington, including Speaker Nancy Pelosi, Majority Leader Steny Hoyer, Senator Maria Cantwell, Senator Sherrod Brown, and many others.
In the afternoons, railroaders took to the Hill to talk about our issues.
From local to national matters, all issues were on the table. Railroaders blasted the so-called "Precision Scheduled Railroading" business model that's cost the jobs of 45,000 railroaders over the past 6 years, and the associated service declines. They talked safety issues in our yards and the locomotive and car shops. They spoke about how elected officials can better address assault prevention on our nation's transit and passenger rail systems.
And, importantly, our members discussed ongoing national freight rail negotiations and the need to get all railroaders a raise and a fair contract!
Some of the highlighted meetings included:
• Rep. Peter DeFazio, Chairman of the House Transportation & Infrastructure (D, OR-2nd)
• Jennifer Mitchell, FRA Deputy Administrator
• Robert Primus, Surface Transportation Board
• Senator Deb Fischer (Nebraska)
• Rep. Jimmy Gomez (D, CA-34th)
• Top staff from the Senate Commerce Committee
• And many others…
"I'm proud of our local and division leaders for pounding the pavement on Capitol Hill this week," said TCU President Artie Maratea. "Our folks were able to speak directly to the key leaders that can change our members lives for the better – and THAT is what being a union is all about."
TCU Nat. Vice President & Legislative Director Bill DeCarlo addressed the entire Legislative Conference on Wednesday morning:
"…Since taking the role at TCU, we've had one mission: Build.
Build our union's power. Build support amongst our membership. Build a Legislative program that ensures we can punch above our weight.
The great turn out for this Conference is evidence of the progress we've made, and we will continue to build our power in Washington, DC, and continue to live up to the legendary reputation of the 'Fighting Machinists'…"
For the first time, TCU and the Carmen Division joined forces with our brothers from the IAM's District Lodge 19 under the umbrella of the newly-created IAM Rail Division. "I'm so proud of our TCU and District 19 guys stepping up to help represent our Rail Division in DC," said Josh Hartford, Special Assistant to the International President, IAM Rail Division. "And I want to thank the TCU Legislative team for their tireless efforts on behalf of all railroaders. Bill DeCarlo and Dave Arouca are a force in Washington, and we need their expertise now more than ever if we're going to get our members a fair contract."
Railroaders got to meet a few leaders that have been rockstars as of late, including T&I Chairman Peter DeFazio, who has long challenged the Class 1 railroads for their endless greed and treatment of their workforce. "Chairman DeFazio was the first person on Capitol Hill to really get it. He knows how this PSR model is hurting our railroads, rail service, and rail workers. Our guys were extremely glad to finally meet the one of the leaders that's really chastizing the Class 1 CEOs," said Don Grissom, Asst. General President of TCU's Carmen Division. [In case you missed it, Grissom testified last week before the House Railroads, Pipelines and HazMat Subcommittee hearing on freight rail safety.]
STB Board Member Robert Primus also talked with our railroaders. Primus recently went viral amongst rank-and-file railroaders when he had a testy exchange with CSX CEO Jim Foote at the STB's "Urgent Issues in Freight Rail Service" hearing in April.
"These days, a lot of these CEOs run their railroads through fear, because a scared employee is an obedient employee," said Greg Kocialski, TCU's National Rep. covering CSX clerical and intermodal properties. "So it's no surprise that Primus' exchange with Jim Foote became legendary amongst railroaders. Our members have been through hell and back during COVID, deemed essential frontline workers from the get go – but all the railroads have offered is stricter discipline, massive forced overtime, and a $600 payday loan."
Every Legislative Conference attendee contributed valuably to the week's events and meetings: from Rudy Herrera telling his story to the FRA; Greg Burnett talking National Negotiations with Rep. Rick Larsen; Jason Cox detailing car inspection times with Sen. Sherrod Brown; and Josh Cox (no relation) bringing Nebraskan machinists issues home to Sen. Fischer and the entire State delegation.
As one staffer mentioned, "it's truly amazing to see the range of accents from across the country – but you're all telling the same story."
Indeed, our shared plight is our shared fight. So let's keep up that fight in DC and at home!