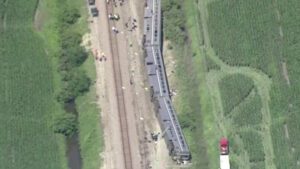 TCU/IAM National President Artie Maratea issued the following statement regarding Amtrak Southwest Chief Train #4 that collided with a truck and derailed outside of Mendon, Missouri. So far there are multiple fatalities and at least 50 injuries reported.
"The TCU family is heartbroken by this tragic accident, and our thoughts go out to all those affected. Incidents like this are a painful reminder that the work our members do day-in and day-out is often dangerous and unforgiving work. TCU will do whatever is needed to help and support our members and their families."
TCU will continue monitoring this situation and provide updates as they are available.
Amtrak advised that friends and families of passengers aboard should call 800-523-9101 for information.