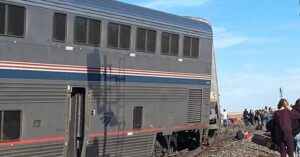 On the afternoon of Saturday, September 26th, Amtrak's westbound Empire Builder suddenly derailed outside Joplin, Montana. A total of eight cars left the track, many falling completely on their sides. At least three people died in the accident, while fifty others were injured. 141 passengers were onboard as well as 16 crew members.
TCU members onboard and at nearby stations sprung into action immediately. Onboard staff that were able began pulling passengers from the wreckage, treating wounded, and caring for those shaken up by the accident – even while coping with their own trauma. They tried to dig through the gravel to free as many as possible. Other staff crawled through overturned cars, opening sideways doors to search for stranded passengers.
Station agents from nearby Shelby and Whitefish stations were the first Amtrak personnel on the scene after quickly driving to the derailment site. Once there they helped shuttle stranded passengers to hotels and motels for shelter. Station Agents coordinated meals and donations – including 100+ quilts made by local quilters group. They even used their personal credit cards to purchase clothing from the only local clothing shop.
The station agents managed travel for passengers to and from the hospitals, hotels, and airports. Wherever they saw a need, they plugged in. This is the kind of service level you get not from minimum wage, unengaged employees, but from seasoned, dedicated career Amtrak staff that love their railroad and the passengers.
While the root cause of the derailment is still under investigation by the National Transportation Safety Board (NTSB) and the Federal Railroad Administration (FRA), it is sadly the case that accidents do happen in the transportation industry. What matters more is how all involved prepare for and deal with accidents so that casualties and trauma are minimized.
Why TCU fights for every job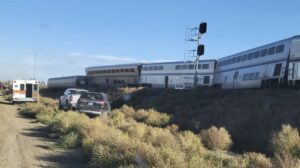 In 2018, Amtrak management – under then-CEO Richard Anderson – moved to destaff many stations around the country, including Havre and Shelby, Montana. TCU fought back forcefully, arguing that removing staff would seriously degrade service, limit access, decrease safety, and – importantly – limit the ability of Amtrak to respond to emergencies.
Thankfully, Congress agreed with us, and mandated that Amtrak restaff those stations the following year. Two of the biggest proponents of restaffing the stations were Montana's own Senators Jon Tester and Steve Daines. As Sen. Tester wrote in 2019:
"I respectfully request that you now work to immediately reinstate ticket agents in the Havre and Shelby stations…Ticket agents' chief responsibility is to provide passengers with accurate schedule information and cost-effective ticket pricing, but they also serve folks in ways that automated systems cannot. Ticket agents promote tourism and are able to help secure medical care for passengers who might need it…"
Meanwhile, former CEO Richard Anderson was also seeking to do away with as many staff as possible, including the elimination of freshly-prepared dining (and related staff), as well as reducing onboard service staff – placing more work to fewer crew. They even removed cars with designated crew rest areas, effectively forcing onboard staff to have zero downtime between shifts.
TCU fought these changes tooth-and-nail, not because we were clinging to vestiges of the past, but because our members care so deeply about the quality of the service they provide! TCU urged Amtrak not to make these short-sighted cuts and to restore dining service.
Fortunately, once union-busting Richard Anderson left Amtrak, cooler heads inside management were able to prevail. In June, 2021, Amtrak announced they would restore traditional dining service on six western routes as well as the Autotrain.
Make no mistake: these reversals did not happen in a vacuum! Amtrak returned traditional dining service and restaffed stations because of a coordinated effort between TCU representatives, TCU's legislative department, and groups like the Rail Passengers Association (RPA).
Fewer staff means fewer first responders
So why are we mentioning this in the wake of a tragic derailment? As mentioned above – and as all Amtrak staff know – our crew are not simply waiters and bellmen on trains, nor are they ticket-selling cogs (as some former Amtrak leadership would lead you to believe). Amtrak employees are highly-skilled, dedicated professionals that know the ins-and-outs of their trains and national network. Just weeks prior, the Station Agents that responded had undergone Initial Response Training (IRT) to drill for this exact scenario. Amtrak staff don't need to be told to jump into action when disaster strikes – they do it because of the love and dedication to their professions.