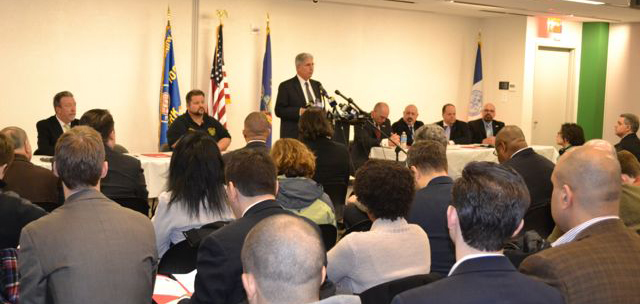 TCU/IAM National Vice-President and Assistant to the President Joel Parker addresses the press.
TCU-IAM and its Long Island Rail Road coalition partners — SMART, IAM, and NCFO-SEIU – held a historic solidarity political and press briefing with TWU Local 100 at the latter's New York City headquarters on Friday, March 21.
Leaders from TCU-IAM, SMART and TWU Local 100 briefed the fifty public officials and staff present, including Congresswoman Yvette Edwards and Congressman Hakeem Jeffries, on the bargaining impasse with Metropolitan Transportation Authority (MTA).
The event was widely covered by the major media in New York City and Long Island, including every major television, radio and newspaper outlet.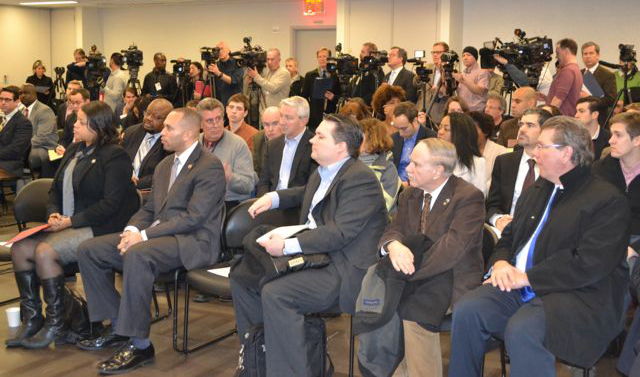 Just one day earlier a bipartisan letter signed by twelve New York Area Congresspersons at the urging of the coalition prompted MTA to commit to invoking a second Presidential Emergency Board (PEB), averting a strike that would have occurred on March 21.
But MTA has shown no sign of budging from its outright rejection of Presidential Emergency Board 244's recommendations to settle the dispute. All Long Island Rail Road unions that were involved in the PEB have signaled their willingness to accept the compromise recommendations.
TCU/IAM leaders, including National Vice President and Special Assistant to the President Joel Parker and National Vice President Arthur Maratea, sat at the head table with the leaders of the other coalition unions — Anthony Simon of SMART-UTU, John Lacey of IAM, Dean Devita of NCFO-SEIU, and Charles Fraley of SMART-Sheet Metal — along with TWU Local 100 President John Samuelsen.
John Samuelson, president of the 40,000 member New York City transit worker union, began the briefing with a rousing pledge of solidarity, saying if MTA's intransigence resulted in a strike, his members would do all in their legal power to stand with their Long Island brothers and sisters.
Anthony Simon, General Chairman of SMART-UTU, the largest union on Long Island Rail Road, told the gathered elected officials and staff that the blame for the stand-off and looming strike lay solely on the shoulders of MTA. "The MTA is provoking this strike," Simon told the audience. "The MTA refuses to meet us halfway, insisting on 'net zero' wage increases. Meanwhile, the MTA police union was granted a contract with an immediate 7.5 percent raise, and a 17-percent salary increase over seven years," Simon said. "We deserve to be treated with the same level of dignity and respect as our uniformed counterparts."
TCU's own Joel Parker then briefed the elected officials and press on the specifics of the negotiations and the PEB's recommendations. Parker, who was selected by the coalition as bargaining table spokesman and who also gave the major union testimony at the PEB, told the audience ""As Special Assistant to TCU/IAM National President Bob Scardelletti, I'm involved in all our union's major negotiations, including National Freight, Amtrak, and major commuters. We usually succeed in the goal of reaching voluntary agreements without the help of PEBs, but where that hasn't worked, we've had PEBs on Amtrak, National freight, and Metro North."
"In every case, the unions and railroad settled immediately on the basis of the PEBs recommendations. That is exactly what Congress intended when they enacted the Railway Labor Act, and then amended it for commuter railroads with section 9a. The goal was to avoid the devastating economic impact of rail strikes by having a panel of neutral expert arbitrators recommend compromise terms for settlement."
"For the first time in my 35 year union career, I have a seen a rail carrier spit in the face of a PEB's recommendations, and publicly say they will only bargain if we agree to go back to square one and pretend that the PEB never existed. This is unprecedented and reckless behavior. If allowed to continue, it will result in a shutdown of vital transportation to the great city of New York.
"The unions on Long Island Rail Road are willing to accept the PEB's compromise recommendations only because we know we have to balance our members' legitimate rights to a decent standard of living, working at all hours and weather in extremely dangerous occupations, with our responsibility to serve the public."
Parker concluded by asking the elected officials present to "use the power of your office to persuade the MTA to change course and accept the PEB recommendations. Failure to do so will inevitably lead to a strike in July, a strike that we do not want and that can be avoided if MTA would adhere to congress' intent when they legislated Presidential Emergency Boards as the way to avoid railroad strikes."
Samuelsen, Simon and Parker then fielded several questions from the gathered elected officials and staff, and then from the press. They denounced MTA's "outrageous campaign to pit the public against rail workers" by threatening to radically raise fares if the unions didn't cave in to their continued demands for three net zeroes and major work rule concessions, demands that were decisively rejected by PEB 244.
Mario Cilentro, President of the New York State AFL-CIO, pledged the Federation's total support of the Long Island workers. Also present were leaders from the New York Labor Council and ATU locals representing other New York City transit workers.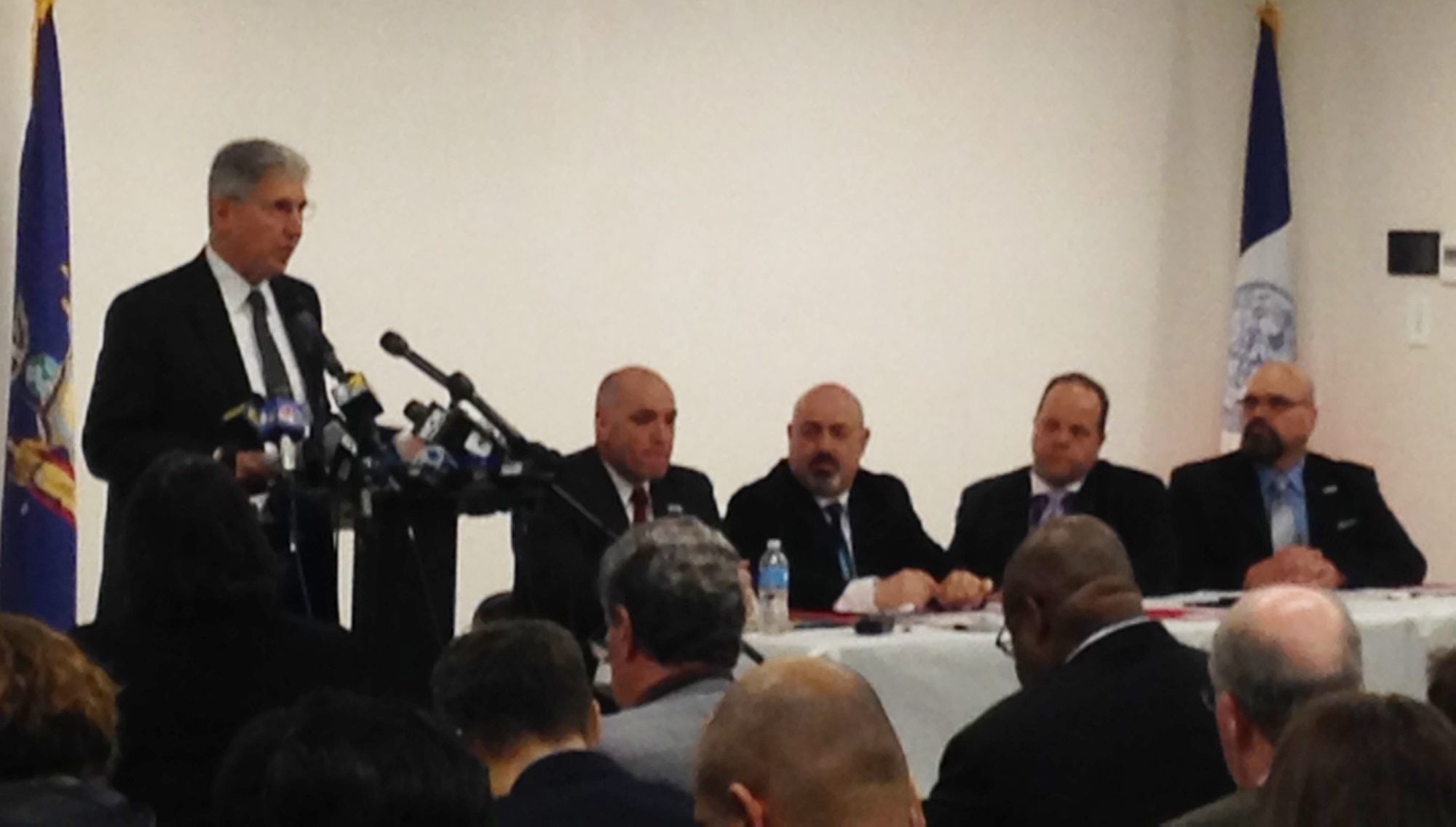 TCU-IAM National Representative Billy DeCarlo and Local Chairmen Jimmy Figueroa and Nick Peluso attended, and once the official remarks concluded, gave many of the elected officials present the rank and file's view of MTA's bad faith bargaining.
Several of the elected officials pledged to do all in their power to bring MTA to its senses.
The attendance by so many elected officials and staff from all levels of federal, state and local government was a reflection of the growing public support for the Long Island workers' cause. TCU-IAM National President Bob Scardelletti said, "I want to personally thank each of the elected officials and staff who took time from their busy schedules to attend this event. MTA must wake up to reality and accept the PEB's compromise recommendations. Their refusal to do so is blatantly irresponsible. We hope the growing bipartisan support for a fair settlement on the basis of those recommendations will bring MTA to its senses."
In the week leading up to the event, the National Mediation Board invited MTA and all the involved unions to meet in Washington, D.C. on February 27 and 28 to resume talks. Both sides accepted. However, the union coalition rejected MTA's previous demand that talks begin from square one as if the PEB never happened. The unions countered that PEB 244's report must be the starting point for any talks.
If no deal is reached by March 21, MTA is now on record that it will invoke a second Presidential Emergency Board, which under the law will choose between the best offer of either side. If the Board's non-binding recommendation does not lead to an agreement, the second cooling off period will expire in mid-July, at which time a strike will occur.
The public officials attending the Coalition/Local 100 briefing included: Congresswoman Yvette Edwards, Congressman Hakeem Jeffries, State Senator Phil Boyle, State Senator John Flanagan, Assemblyman Karim Camara, Assemblyman William Colton, Assemblyman Michael Dendekker, Assemblyman Felix Ortiz, Assemblywoman Michaelle Solages, and City Councilman Ruben Wills.
Top level staff from the following officials also attended: U.S. Senator Kristen Gillibrand, Congressman Timothy Bishop, Congressman Steve Israel, Congresswoman Grace Meng, Congressman Jerrold Nadler, Congressman Peter King, Congressman Jose Serrano, Congresswoman Nydia Velazquez, State Senator Martin Dilan, State Senator Velmanette Montgomery, State Senator Jose Peralta, State Senator James Sanders, State Senator Daniel Squadron, Assemblywoman Catherine Nolan, Assemblywoman Nily Rozic, Assemblyman David Weprin, Manhattan Borough President Gale Brewer, Queens Borough President Melinda Katz, Speaker of New York City Council Melissa Mark-Viverito, New York City Comptroller Scott Stringer, Councilman Daniel Dromm, Councilwoman Karen Koslowitz, Councilman Stephen Levin, Councilman Donovan Richards, Councilman Ydanis Rodriguez, Councilman Jimmy Van Bramer, Councilman Mark Weprin, and Councilman Jumaane Williams.
Click here to view the recommendations of the PEB.
Click here to read the Congressional letter to the MTA.