As some TCU members might know firsthand, H-1B visas are killing American jobs.
What are H-1B visas? Here's a quick background…
H-1B visas are essentially temporary work permits for foreigners. They are intended to allow U.S. companies to bring in workers from other countries if they cannot find American citizens to fill those positions. These visas were designed for highly-skilled positions, which is why applicants must have at least a Bachelors degree, or their country's equivalent. Congress also caps the number of H-1Bs allotted per year, but that number has continued to go up since the program's inception.
That's what H-1Bs are supposed to be.
In reality, a large amount of H-1Bs are utilized by companies to perform a type of in-house outsourcing. Companies lay off workers they deem too expensive and hire a worker on an H-1B visa to take their place. In some instances, workers are made to even train their replacements. Unfortunately, the requirement that firms prove that American workers won't be "displaced" only applies to jobs that pay under $60,000 a year. And since most tech industry jobs are market competitive (pay more than $60k) there's still a large incentive to utilize H-1B visas as much as possible.
Here are some other facts:
Most H-1Bs are utilized by the technology sector.
More H-1B visa holders come from India than anywhere else.
A third of all H-1B visas are taken by just 13 outsourcing companies.
It's clear that the way H-1Bs are being used goes directly against the spirit of the law that created them.
Workers Sue Disney Over H-1B Abuse
We're bringing attention to this because of a recent lawsuit filed by two former Disney employees. Dena Moore and Leo Perrero – along with 250 of their colleagues – were laid off from their positions at Walt Disney World in favor of H-1B visa workers. Their suit alleges collusion between Disney and two outsourcing firms, HCL and Cognizant, to outsource their jobs to lower-paid H-1B immigrant workers.
As mentioned earlier, some workers have been forced to train their replacements. Mr. Perrero had to do just that: "I just couldn't believe they could fly people in to sit at our desks and take over our jobs exactly…It was so humiliating to train somebody else to take over your job. I still can't grasp it."
Our TCU brothers and sisters at Disney stand in solidarity with their colleagues as they seek justice and restitution from the company that has ruthlessly (and perhaps illegally) outsourced their jobs.
H-1B Epidemic
Sadly, Dena and Leo are not alone. Aided by consulting firms, companies are quickly realizing the inherent weaknesses of the H-1B requirements and penalties. Companies are using the ask-for-forgiveness vs. permission strategy, which places the onus on the government and the victims to seek restitution rather than protecting them in the first place.
The epidemic is nationwide. Thousands of people are losing their jobs as companies abuse the H-1B visa system to benefit their bottom line.
Last November, the New York Times published a scathing article on the program in which they cited the inability of the H-1B visa's intended recipients to actually receive them. Foreigners that are in fact highly-trained professionals lose out in the computerized lottery because outsourcing companies flood the system with applications.
"The H-1B program is critical as a way for employers to fill skill gaps and for really talented people to come to the United States," said Ronil Hira, a professor at Howard University who studies visa programs. "But the outsourcing companies are squeezing out legitimate users of the program," he said. "The H-1Bs are actually pushing jobs offshore."…
…Of the 20 companies that received the most H-1B visas in 2014, 13 were global outsourcing operations…The top 20 companies took about 40 percent of the visas available — about 32,000 — while more than 10,000 other employers received far fewer visas each. And about half of the applications in 2014 were rejected entirely because the quota had been met.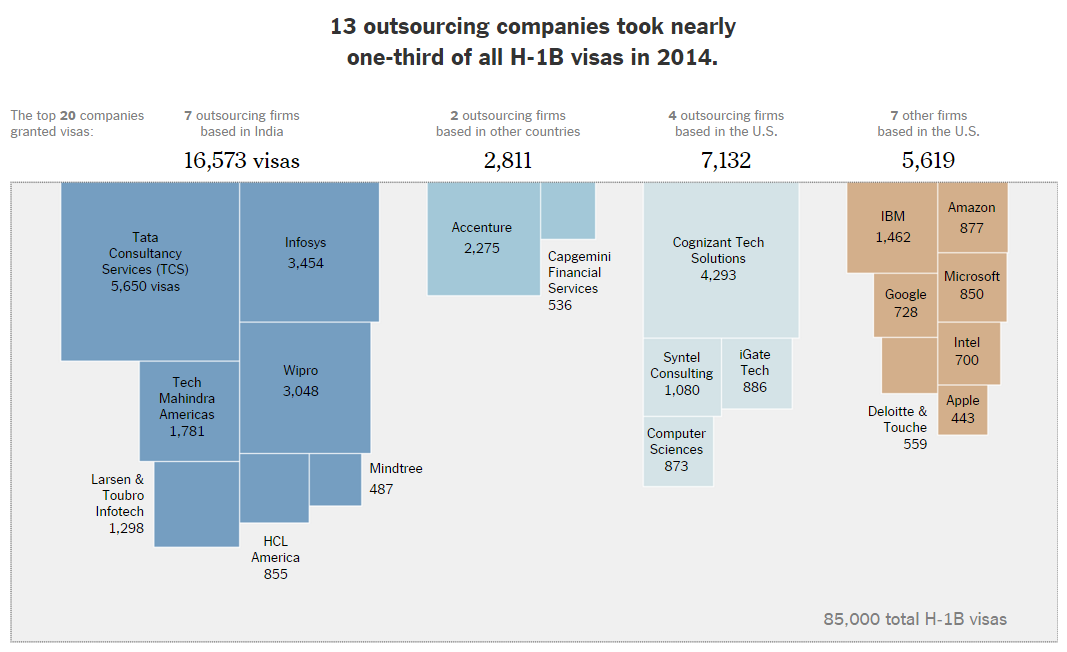 Meanwhile, labor unions have been pushing lawmakers to make it harder to abuse the H-1B program and the American workers they displace. Last year, the AFL-CIO President Rich Trumka wrote Congress to oppose an expansion of the H-1B system and highlighted some keys reforms that would better benefit American workers. Some highlights of the letter include:
Employers should be required to fill jobs with the most qualified local applicant, and should be permitted to recruit from abroad only when a real need exists – and can be documented.
Employers should be required to pay workers in the H-1B program at the same rate they would pay local workers.
Workers in the H-1B program should have increased job mobility and the right to self-petition for legal permanent resident status, rather than having to rely upon an employer to petition for them.
TCU will continue to fight for good jobs and economic justice for all American workers and that includes supporting our brothers and sisters who – through no fault of their own – find themselves victims of Disney's greed and abuse of our nation's immigration visa system.
P.S. – For those of you following the Presidential race, please know that Sen. Marco Rubio recently introduced legislation to triple the number of H-1B visas offered. This is surprising considering so many of the workers in his home state recently lost their jobs directly to H-1B immigrants. We urge you to remember that at the polls.