On Monday, labor leaders, religious leaders, and Members of Congress came together to once-again denounce the proposed Trans-Pacific Partnership (TPP). The TPP is a massive trade deal currently being proposed between the U.S. and eleven other nations; and one that many are calling "NAFTA on Steroids."
TCU stood in solidarity with IAM at the Capitol Hill press event hosted by Rep. Rosa DeLauro (D-CT). Attending were various labor leaders including AFL-CIO Secretary Treasurer Liz Schuler who called the TPP a "massive corporate giveaway, putting jobs at risk rather than growing opportunity for all." IAM Legislative Director Hassan Solomon gave strong remarks against the deal, stating that the TPP will be at the front of the minds of voters come November.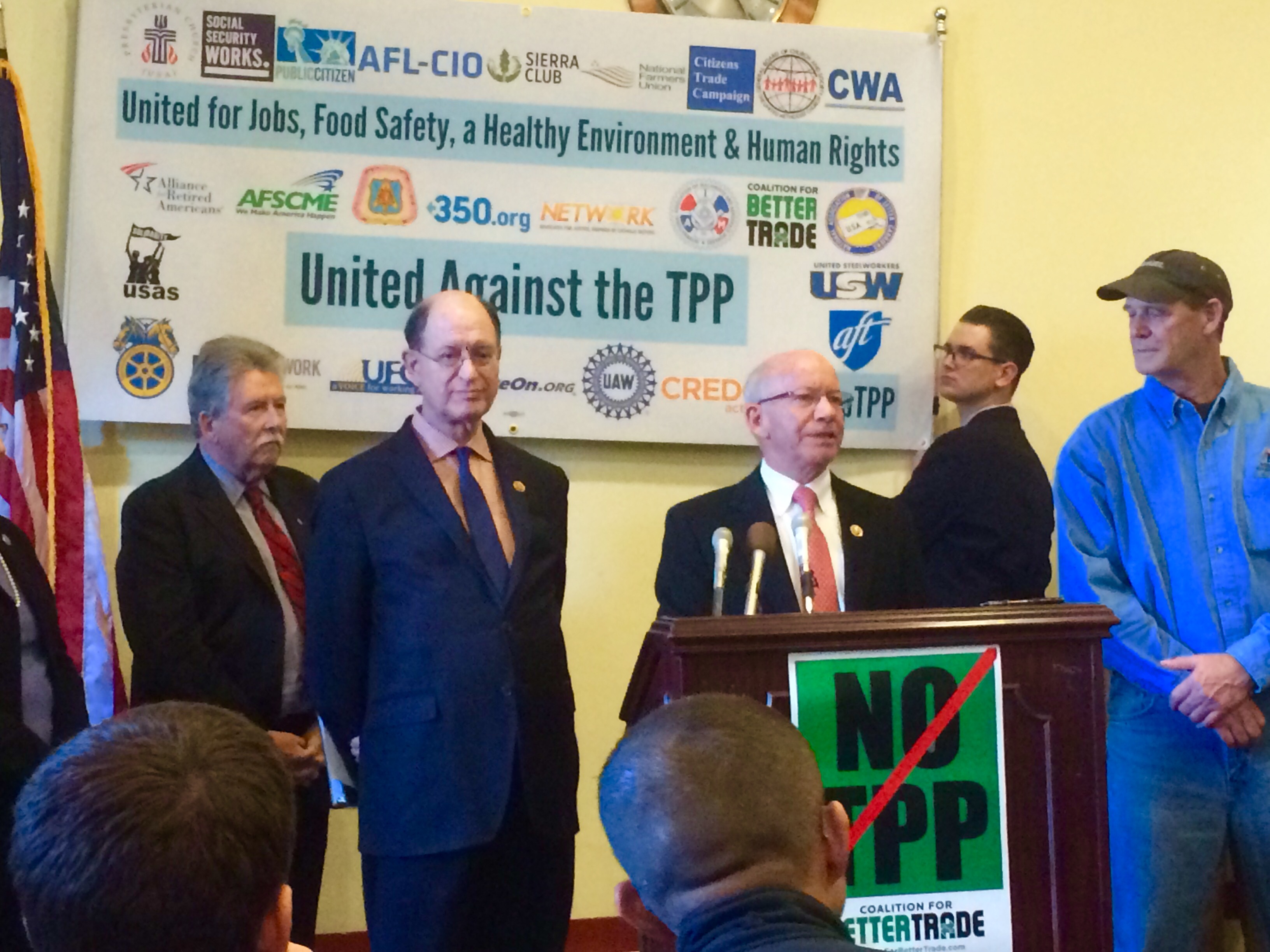 Rep. Peter DeFazio (D-OR) talks about negative impact of previous trade agreements
Other Members of Congress that spoke included Reps. Brad Sherman (D-CA), Peter DeFazio (D-OR), Barbara Lee (D-CA), Jan Schakowsky (D-IL), Louise Slaughter (D-MI), and Dan Kildee (D-MI). Congresswoman Slaughter opined that she opposes these trade deals on the understandable supposition that she wasn't elected to ship jobs overseas. Likewise, Congressman Kildee compared the expected impact of the TPP to that of previous trade deals that have played a larger role in the hollowing out of communities across the midwest: "I'm from Flint…so I don't need anyone to lecture me on the impact of trade agreements on the middle class. I've lived it. And it leads to things like communities not being able to get safe drinking water" [alluding the recent, highly-publicized case of Flint, MI being unable to supply clean drinking water to its residents].
Also attending was Sister Simone Campbell of Nuns on the Bus, who spoke about the moral implications of the TPP: "After thorough review, it is clear that the TPP will not improve the lives of people at the margins of society. Congress must answer Pope Francis's call to say no to 'an economy of exclusion' by rejecting the TPP. Trade deals must uphold the common good rather than cater to the special interests."
President Obama has been pushing for the trade deal as a "legacy event" for his Administration, once again calling for its passage in his final State of the Union address. However, most unions are skeptical of the economic benefits of such a deal as it will place U.S. workers in direct competition with extremley low-wage nations like Vietnam where the minimum wage hovers around fifty cents an hour.